SEVEN TIPS FOR MORE SUSTAINABLE TRAVEL
Sustainable tourism and nature-based tourism have become popular trends during and after the COVID-19 pandemic. By following this list of seven simple tips, you can become a responsive traveller and make your travel more sustainable.

Choose a place that isn't favoured by the crowds
The pandemic has caused up to 64% of Vietnamese tourists to avoid popular destinations and places which can often witness overcrowding. Being aware of this issue when planning your travel will help you reduce the pressure on the already fragile environment and ecosystems, as well as the local community.
You should look for lesser-known travel destinations or places located right next to popular attractions. In addition, you should also consider traveling during the low season when you'll find the least number of tourists in a tourist site.
Data has shown that more and more people are opting for camping trips in small groups to prevent the spread of the pandemic. Several options for camping in the northern region include homestays, camping sites, and resorts in Hanoi's suburban Ba Vi District, Ma Chau Town (Hoa Binh Province), Xuan Son National Park (Phu Tho Province), Pu Luong Nature Reserve (Thanh Hoa Province).
In the central region, Phong Nha-Ke Bang National Park (Quang Binh Province) or A Luoi District (Thua Thien Hue Province) are now attractive destinations for both backpackers and families for weekend trips.
Meanwhile, locals in the southern region can spend their camping time in Ba Den Mountain (Tay Ninh Province), Chua Chan Mountain (Dong Nai Province), and Cat Tien National Park.
Choose eco-friendly hotels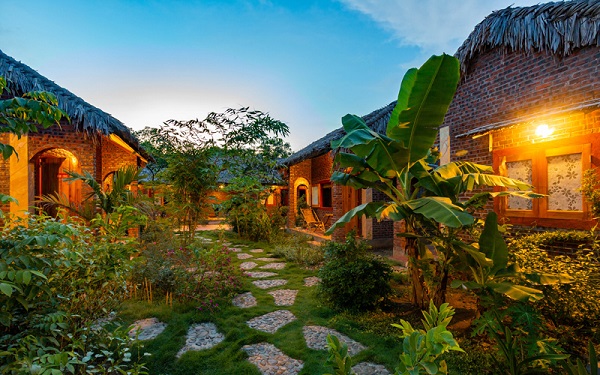 You should choose a property that adopt sustainability practices and policies. As sustainable living doesn't have to be expensive, there are now countless sustainable accommodation options to meet your preferences and still fit your budget.
One of the easiest ways to confidently book a place at a sustainable property is to find out if the property has eco-friendly certification by a third-party organisation for sustainable businesses. For instance, Booking.com is currently displaying over 30 certifications officially approved by the Global Sustainable Tourism Council (GSTC), Green Tourism and the EU Ecolabel, as well as multiple hotel chain sustainability programme.
Avoid single-use plastics
Plastic waste has always been an environmental problem for many years. A whopping 91 percent of all plastic isn't recycled at all, instead it ends up in either the ocean or in a landfill.
Many properties have already started adopting ways to reduce and eliminate single-use plastics, but you can also share a helping hand through small actions such as bringing a reusable water bottle or stainless steel bottle, and bringing travel shower gel and shampoo bottles from home.
If you travel to a place that doesn't have clean tap water, you can use water purification tablets and travel-friendly straw filters water.
Choose a community tour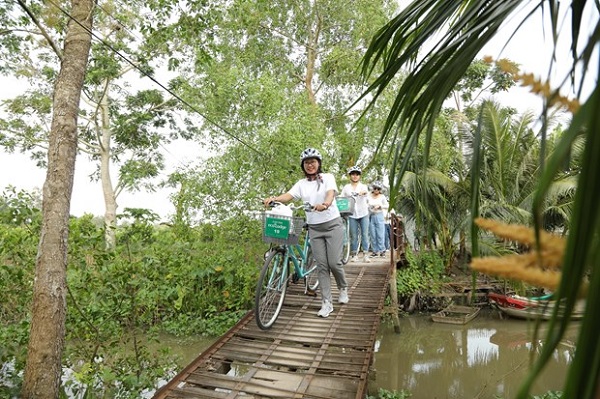 84% of Vietnamese travellers want authentic experiences that reflect the culture of the place they travel to
When planning a trip, you should look to tour operators that have shown their socially responsibility in supporting and contributing to the local community while observing sustainable tourism practices. A recent report by Booking.com shows that 84% of Vietnamese travellers want authentic experiences that reflect the culture of the place they travel to, and 93% believe that it is important to raise awareness on culture and heritage preservation.
By supporting these businesses, local communities will also benefit directly and fairly from the tourism industry.
Save energy just like when at home
Currently, many people are becoming more aware of turning off lights, air conditioners, etc, when they are not in use. Therefore, the first step of sustainable travel is to remember your sustainability habits in everyday life. At the property, you should be mindful of turning off lights when you leave your room, reuse towels and sheets, and be more aware of your shower time. Small things will contribute to a big impact.
Leave a place better than you found it
One of the key factors to sustainable tourism is to make the place you visit look cleaner when you leave than when you first arrive. One simple way to do that is to pick up some trash when you leave. Although this is a very small action, it is important to take care of our environment.
Buy local products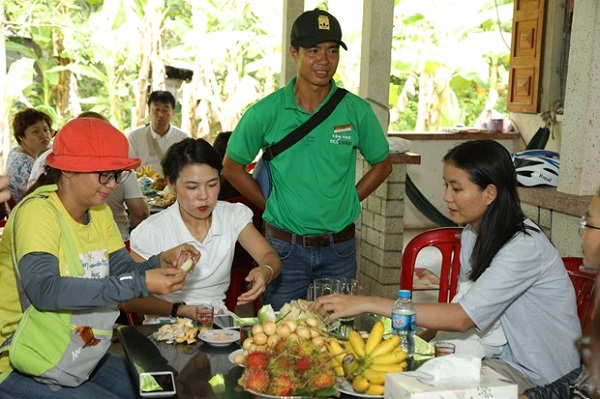 Tourists enjoy local specialties. (Photo: VN+)
One of the best ways to support the local economy and reduce emissions while travelling is to buy local products and eat at places that use organic ingredients and avoid eating at fast food chains because they often import ingredients from abroad.
If you cook for yourself, try to buy ingredients from local markets as well. It is reported that nearly 59% of Vietnamese tourists chose to buy at small stores to support the local economy during their trips last year.
Credit: Nhandan.vn